Having a baby marks a new chapter for the family. Raising kids also means an increase in expenses, and the Singapore Government has the Baby Bonus Scheme to help ease financial concerns for parents. Under this scheme, there are Baby Bonus cash gifts and contributions to the Child Development Account (CDA) to help mums and dads meet their growing family's needs.
Did you know that the CDA and the Baby Bonus Cash Gifts are different?
To help with defraying the costs of having children, the Baby Bonus cash gift is given to babies who are Singapore Citizens.
This table from the Ministry of Social and Family Development outlines the cash gift each child in the family will receive. These rates are applicable for babies born from Jan 2015 onwards.
The amount is credited to the bank account provided by parents and will be deposited over an 18-month period through 5 instalments. The table below shows the pay-out breakdown:
Enhanced Baby Bonus Benefits from 14 February 2023
Additional $3,000 Baby Bonus cash gift for married couples with Singapore children born on 14 February 2023 onwards. Note that the funds will be disbursed till your child turns 6.5
years old, unlike before where the period was your child turns 18 months old.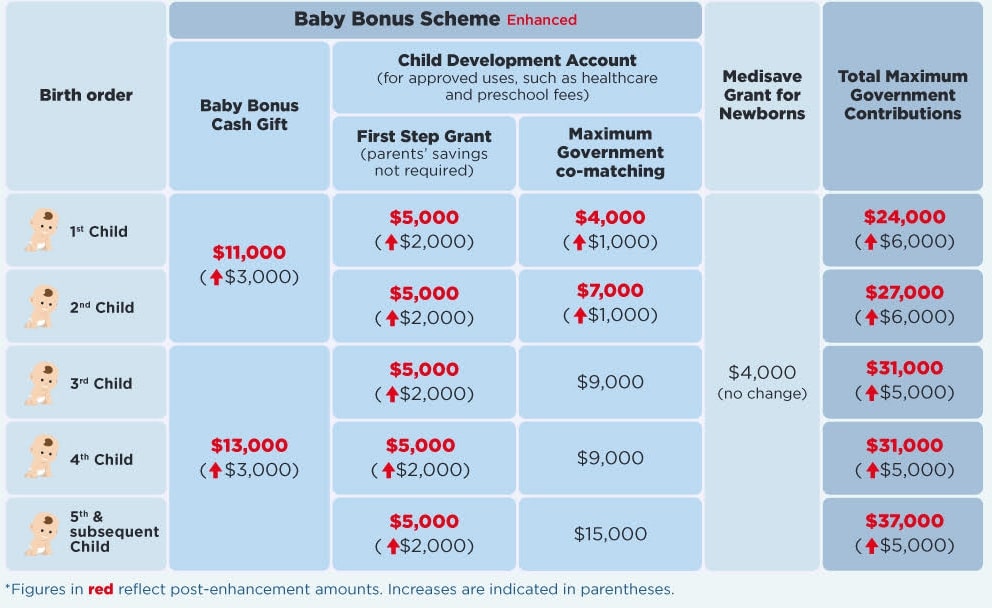 Extra Baby Bonus Grant for babies born during the Covid-19 period
Planning for children? The Singapore Government has implemented extra financial support for new parents this season. During such unprecedented times, some families may experience pay-cuts or a loss of income; marriages and family planning thoughts may also be shelved.
During pregnancy, some of us may also think about getting a maternity insurance as a financial protection against pregnancy complications and congenital illness for baby. After delivery, the postpartum support like whether to hire a confinement nanny or not are usually discussed before baby is born. That's where extra money can be pretty handy.
From 1 October 2020 to 30 September 2022, mums and dads of children born during this period will be eligible for the one-off Baby Support Grant (BSG) of $3,000 for each child. This is the additional Baby Bonus Cash Gift extended to help families during the Covid-19 times.
This $3,000 Baby Support Grant is offered in addition to other family grants and parenthood subsidies such as childcare and infant care subsidies for parents in Singapore.
Extension of Baby Support Grant (updated 14 February 2023): Good news for parents with kids
born 1 October to 13 February 2023! Our government has extended the financial support period for births, and you will receive this extra cash support too!
Unlike the dollar-to-dollar matched CDA funds in our kids' accounts, there are no restrictions on how parents use the Baby Bonus Cash Gift. They can be used on baby's necessities such as diapers and formula milk powder or used in investment plans to grow your wealth and savings further.
Wish to find out if your newborn is eligible for these gifts from the Government? Check out the Baby Bonus eligibility tool.
Jenelle's family financial planning tips: Parents, did you know that you can join the Baby Bonus Scheme as early as 2 months prior to baby's Estimated Delivery Date (EDD)/before your child is born? Sign up here to apply.
Planning ahead for your family's health, wealth and education expenses
Are you worried about insufficient health insurance coverage? Are your savings optimised to meet your retirement plans? Do you have enough funds set aside for your children's future education expenses?
As the sandwich generation where we have little ones to nurture and our aged parents to care for, it is easy to forget the present where we simply focus on earning an income but neglect savings or making our money grow further.
With some budgeting in place and a clear financial roadmap drawn up, turning financial concerns into financial confidence is possible. Take charge of your family's future today. Feel free to get in touch for a complimentary consultation to find out how.
Note: This article was updated in February 2023.