Forget about those typical couple staycations you see on social media – here are some ideas without having to break the bank! With the $100 SingapoRediscovers Vouchers available to all Singapore citizens aged 18 and above in 2020, perhaps it's time to start planning for some quality couple time with your spouse? After sorting out who will be helping to look after your kids, that is.
Choose from fun-filled activities ranging from sightseeing, dining, shopping, accommodation, and sports to explore with your husbands and wives. Here's how you can redeem your SingapoRediscovers Vouchers by 31st Dec 2021!
How to claim your SingapoRediscovers Vouchers?
Redemption of the SingapoRediscovers Vouchers can only be done via a SingPass account and booking of the activities will be done through these authorised partners:
Now, let's get onto the fun part, shall we?
1: Couples who want to be #fitspo mums and dads
Did the couch potato life creep up on you because snacking after the kids sleep has become a routine? Or, perhaps you're looking to shed those kilos you've gained since the Circuit Breaker? Grab your spouse and motivate each other to be stronger, faster and heathier!
For just S$24, you can get both your hearts racing with the adrenaline-rushed HIIT Circuit Workout at Bbounce Studio! Exercising releases endorphins (happy hormones) and adds that healthy glow on our skin. Taking care of our health is a positive way of showing we care about the ones we love, isn't it?
2: Couples who love to explore outdoors and sweating it out
If exercising indoors is not your thing, then be intrigued by this Ubin Biking Adventure whereby you get to explore the unexplored places and catch the wildlife in action in Pulau Ubin while riding! Suitable even for beginners, Ubin Biking Adventure package includes qualified guides to provide safety tips as well as cycling routes in this little off-shore island.
Smart parent's tip: Don't own a bicycle? Fret not! Having your own bicycle is not required especially since bike rentals are easily available on Pulau Ubin.
3: Parents who need a good massage or spa to rejuvenate
Body aches are very common among mums and dads especially with the demanding responsibilities of raising a family and juggling work commitment amongst others. If you are seeking to relieve some tension and knots, then pamper yourselves at Kenko Wellness Reflexology Massage! Couple spa and massages not only help you to unwind and distress – the relaxing time gives your mind, body and soul a good break away from the hustle and bustle of your busy life. What's more, instead of the usual $120 body massage package, you can enjoy the same package at only $106 instead!
4: Couples who want to enjoy some slow quality time that's almost like a holiday
Since travel plans are out of the window, how about playing tourist at our very own spectacular Jewel Changi Airport? If both of you love greenery with the perks of air conditioning, Gardens by the Bay is a popular attraction.
Now, there is another similar indoor urban nature park for you to discover! Jewel Changi Airport Canopy Park offers you just that.
With an area size of 14,000 sqm, you are in for an array of different species of plants where you can grow your knowledge together. Admission to Canopy Park includes Discovery Slides, Foggy Bowls, Petal Garden and Topiary Walk. This means that you can even unleash your inner child together at the Discover Slides after a romantic stroll in the park! Our advice: Go earlier in the day to beat the crowd!
5: Couples looking to enrich their love for art and history
If you are into unique art and desire to unravel the culture and heritage of Singapore, National Gallery Singapore is a must-visit! Showcasing more than 8,000 pieces of Singapore's national collection, couples will be able to learn more about the history of Singapore through art together. For just $14, you can gain new insights which will turn into great stories about Singapore to share with your kids too!
Moreover, surely this world's largest public collection of modern Southeast Asian art is one that Singaporeans should be proud of and visit, isn't it?
6: Couples who love breath-taking top scenic views
Although Sentosa and Mount Faber are popular romantic spots for couples, most keep this place in the back burner only for special occasions. With the SingapoRediscovers Vouchers, you can enjoy the spectacular view and dining at a pocket-friendlier price!
The Cable Car Sky Pass with unlimited access to all six cable car stations in the Singapore Cable Car Sky Network (Mount Faber and Sentosa lines), allows you to immerse yourself in breathtaking views of city skyscrapers, greenery and the amazing ariel view of the city lights in the night. Even when the Singapore night sky may not twinkle as much as other countries, I am sure your wife would find the city lights and your presence as romantic.
This Cable Car Sky Pass package also includes dining options at two restaurants which offers delectable variety of food choices – Arbora Hilltop Garden & Bistro and Good Old Days, where both of you can enjoy an uninterrupted hot meal.
7: Parents who want to enjoy the slow life at sea
There are a handful of restaurants in Singapore that offer the perfect ambience for a romantic night. But chances are, they might just a little over your budget. If you are cracking your head over where to bring your partner for their birthday or perhaps your anniversary is nearing, consider this!
Royal Albatross City Lights Dinner Cruise grants you the opportunity to whet your appetite with a 3-course dinner onboard Royal Albatross cruise while marvelling over the stunning picturesque city at night. Perfect for couples who want some private time without the kids and can finally enjoy the slow life for a few hours, catching up with your spouse.
8: Couples who want to embark on a VR adventure together
Headrock VR promises a fun and fulfilling experience in a different dimension. As Singapore's first-ever VR theme park, couples can discover different themes such as Horror Room, Jungle Rafting, Storm Blizzard, and even Zombie Busters! Just by looking at the names of the themes, you can feel the thrill, right?
You will be sure to end your day with lots of fun and laughter, creating unforgettable memories together!
9: Parents who want to fill Instagram with beautiful memories
What could be more dazzling than admiring the gorgeous sunset by the beach or appreciating the surrounding urban city life at Marina Barrage, while having a sumptuous picnic with your life partner? Plus, if you are always on the lookout to snap some Instagram-worthy places and ambience, make it a couple date pronto!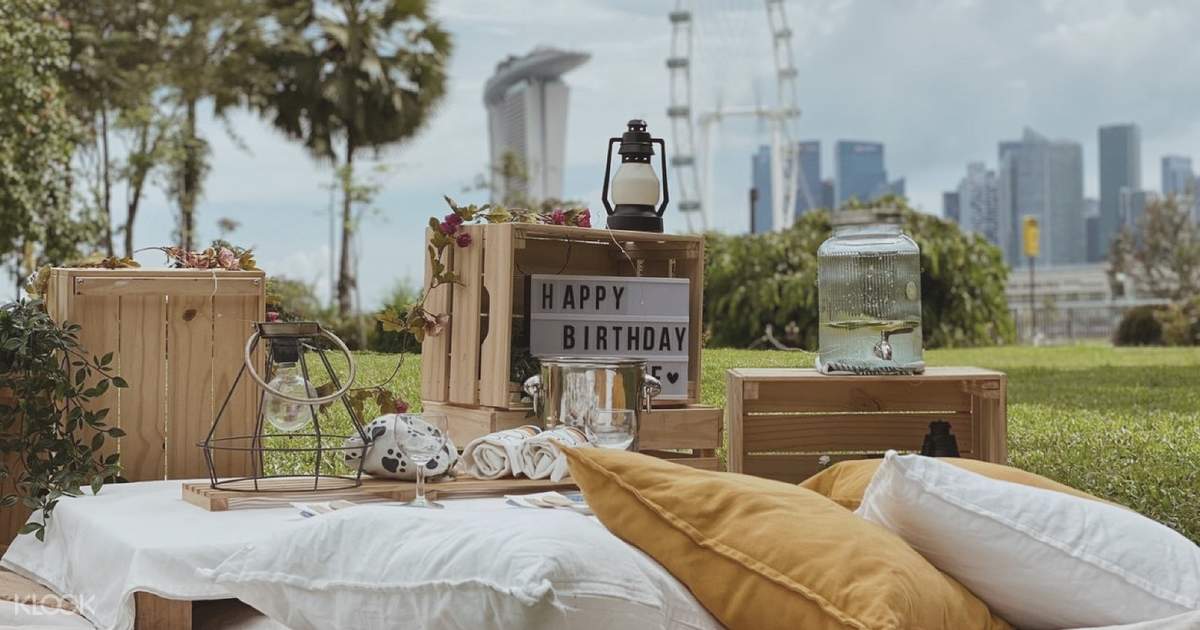 With all the specially-designed props provided for the occasion, all you need to bring along is the food. It is that hassle-free! Imagining lazing with your partner, doing nothing but just chit-chatting away. That's surely a rare opportunity amidst parenting duties, work life and more! Book your picture-perfect couple time at Picnic Rental Sets with Free Set Up Service now!
Mums who want some me-time may head over here or if you are all set for some family outing, check out these exciting family activities you can partake using your SingapoRediscovers Vouchers.