Before COVID-19 happened, working from home with a toddler raised many eyebrows. With the pandemic, working parents had to embrace their new colleagues while being confined to their new workspace in their house.
I know it is not a walk in the park for many families, especially those with multiple kids. The struggle to juggle virtual meetings, demanding work expectations and crying children is real. When Singapore had our Circuit Breaker and preschool and schools had to close, how did we manage working from home without childcare support? With the new normal these days and the kids returning to school, I am thankful for such child-caring help as a working mum.
If you are work arrangement involves the working from home arrangement, here are some simple tips to make things work. I hope my experience come in handy for you too!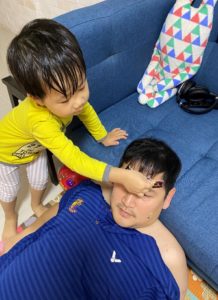 Working from home with a toddler might be challenging, but it's also a reminder for busy parents to make time for our spouse and children.
Work out a schedule with your husband and your child
My husband and I discussed and planned so we could ensure that the 3 of us had smoother workdays. Since we could not send our son to his grandparents during the Circuit Breaker, we pretty much had to ensure we followed his school routine, which included his naps. For meals, we would cook or order food delivery, and we'd do the chores at night or on weekends and involved our boy in easy ones too. For families with helpers, involve them as well so this extra pair of hands can help to play or read to your kids while you are working.
Make the best of the child support arrangements on weekdays and weekends
Now that he is back in full-day childcare, it is easier for us to manage our work on weekdays. Work productivity is better, while our child is in the good hands of his teachers where he gets to be with his friends and play too. For appointments on weekends, sometimes I will bring my son along. Most clients who are parents are very understanding about it. I guess fellow parents understand each other's situation too. Alternatively, I will put him at my mum's place, and they can enjoy some bonding time together. I know mummy's guilt is there, but I don't let that eat me up because it's not healthy or helpful.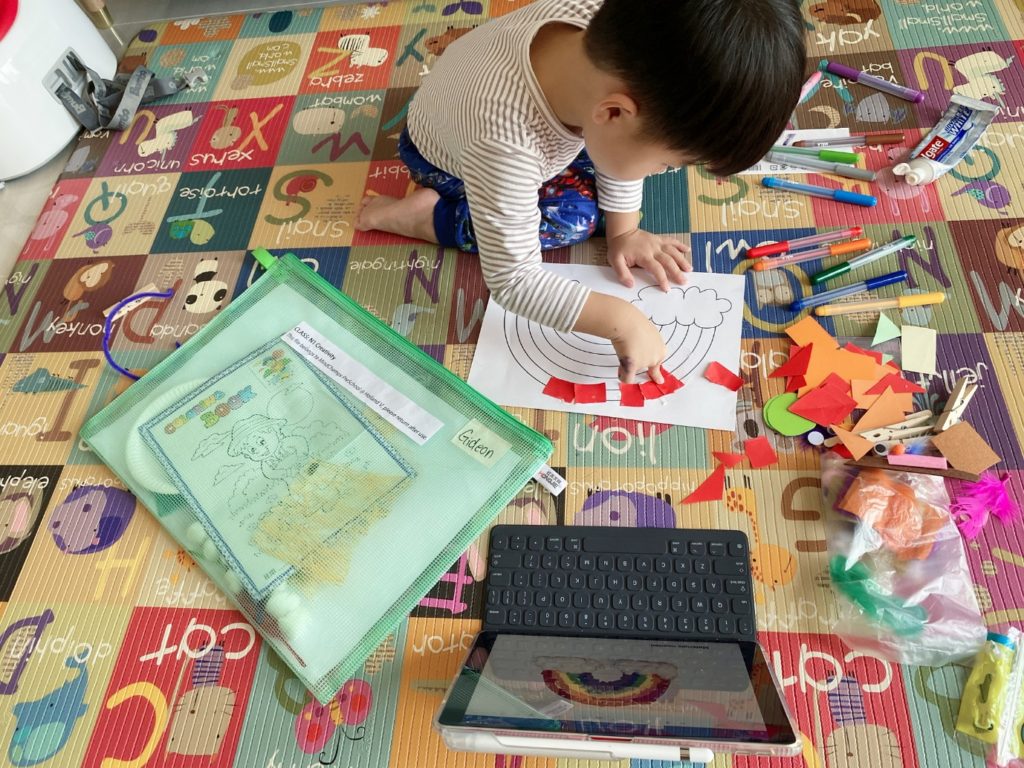 Understand your child, communicate and involve him in your plans
Tots being kids, so we cannot really expect him to follow instructions all the time. I find that it helps to share with him about the day's schedule, so he knows what to expect with the routine. It also depends on your child's character and his emotions at that point in time. He might be cooperative today when I am in a Zoom meeting, but tomorrow it might be a different story. If my husband is not in the house and it is just my son and I, I would have to inform him beforehand that mummy need to be in a virtual meeting. Usually, he would be sitting beside me during my meetings, while he plays with his toys or watches videos on an iPad.
Create a conducive work area
I know many parents undergo additional stress and pressure with the work from home arrangement and it can feel like we are "neither here nor there" with these huge responsibilities of work and children. I find that creating a conducive workspace in an enclosed room helps, so I will not be distracted by my toddler. With the COVID-19 situation, most of my financial planning work can be done remotely, or simply a Zoom meeting away with my clients. At the same time, I try to leave the door slightly ajar so that he can see that I am in there – that helps to give him some assurance that mummy and daddy are near.
Plan bonding time with your child
All work and no play ain't healthy for our mental and emotional state too. Be sure to plan pockets of play time with your little ones, or simply to relax and unwind after a long day or week. Parents need that too! Bath times, eat together during mealtimes, play, read and bedtime… these are simple ways to spend time with them despite our busy schedule. There are also inexpensive ways to explore Singapore with our family using the SingaporeRediscovers Vouchers!
After all, they are only young once. Let us embrace and try our very best to balance this new working from home life with kids!